3 great ideas to reuse your Amoretti Brothers Copper Kitchenware wooden packaging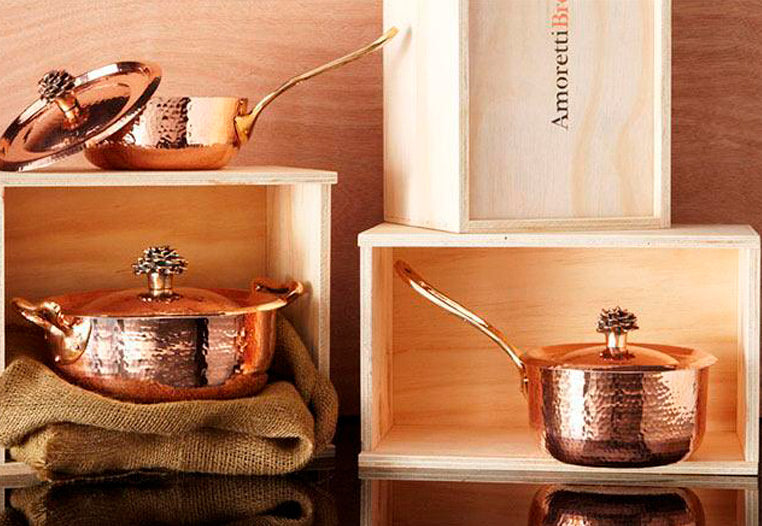 Amoretti Brothers Staff .
Aug 13, 2021
Environmentally conscious, your purchase will be delivered in a beautiful wooden box.
Congratulations, you are now an owner of an amazing copper daubiere, a copper casserole, a copper ice bucket, or any other item or utensil featured in our different copper kitchen sets and collections. You may have noticed we packed everything nicely, using all compostable materials, and that's because packing is an art to us. We believe that the extra time invested in it will ensure that your products travel safely and are presented within the ecological spirit of our brand.
We encourage a more sustainable way of living by manufacturing everlasting copper kitchenware, made by hand and with natural materials, therefore, we also came up with some ideas to prologue the life of our signature packaging.
Start a kitchen garden. What a fun way to reuse! Especially if shared with the kids. Take your wooden box and plant different seeds, produces, or spices. Wood will keep the soil's moisture. We recommend growing tomatoes, garlic, peppers, basil, and thyme.
Use for storage. Your wooden box will protect perfectly from dust and humidity, for instance, your winter clothes, threads, and stamens, books, or the kids' toys. Why not: turn it into your secret box of memories and keep pictures, old journals, etc.
Make it an arts and crafts project. Here's a chance to get creative. Paint it, tear it apart and make something new. Your box can become a shelf or a flowerpot; you may be inclined to use the back of the lid as a canvas for your next masterpiece, or, maybe, just by adding some iron hooks and decorations, it could make a great key rack. Who knows! Explore different ideas and surprise yourself with how far you can go with a little time and dedication.
Remember: it's also cool to dispose of everything inside a composter. Wood and brown paper will do good to your soil, helping reduce some of the moisture of the other decomposing organics. But we think is best to find a more creative way to take something and transform it into something new. Did you come up with different ideas to reuse your wooden box? Share them with us through social media!