Brass Range Hoods customized with elegance and functionality by Amoretti Brothers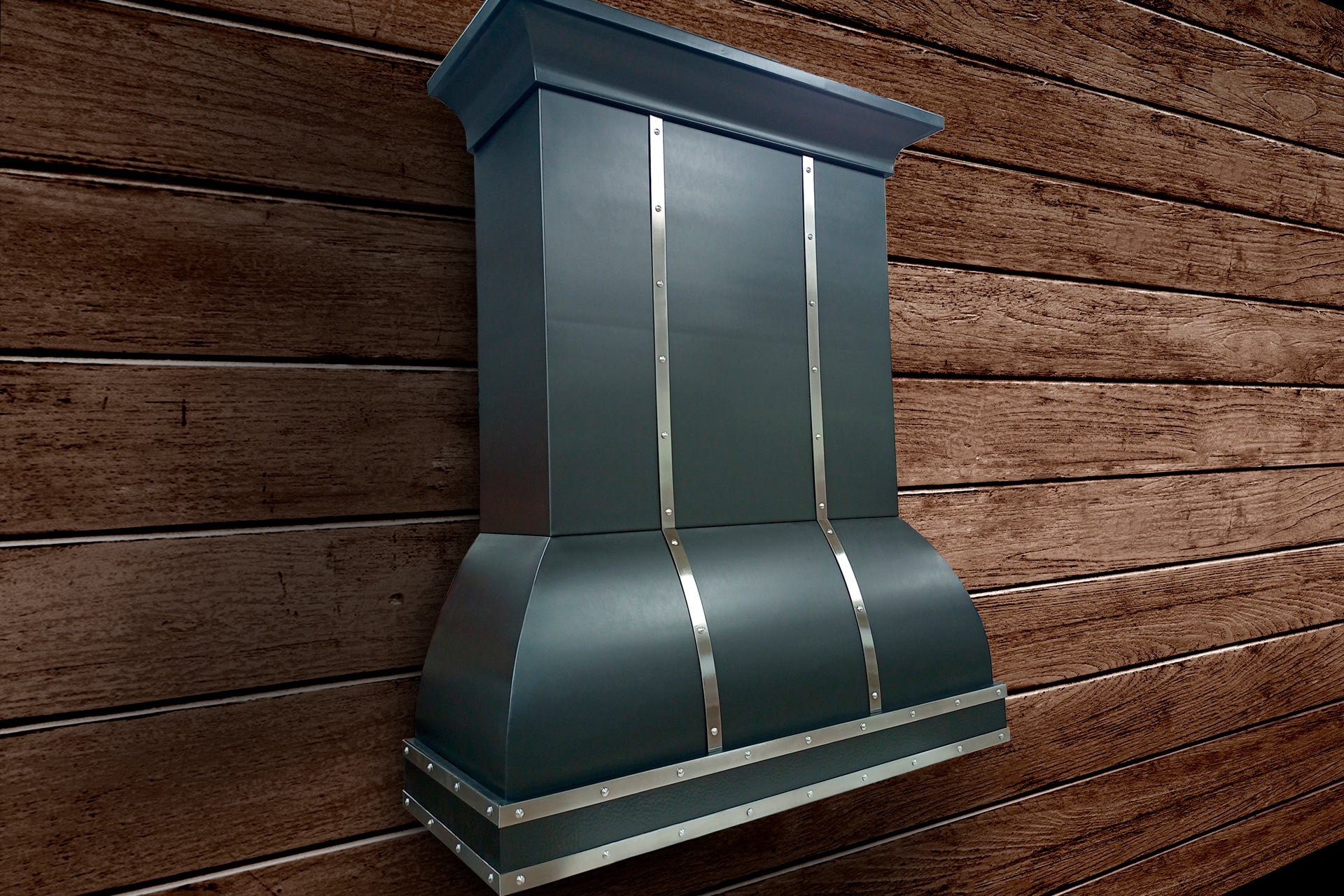 Amoretti Brothers Staff .
May 06, 2022
Why Is a Custom Brass Range Hood Important In Your Kitchen?
A range hood is one of the most important appliances you can have in your kitchen. It is responsible for clearing out the pollutants in the air that occurs as a result of constant cooking. Smoke, heat, oil, and other elements remain in the air, especially after activities such as frying with oil.
If there is little to no ventilation and nowhere for these elements to go, they will remain in the air, making it hard to breathe and leaving the area sticky and oily. This will mean more clean-up for you and you won't have a pleasant time cooking as usual.
But isn't a regular range hood enough for this purpose? Does a custom hood serve any additional purposes? Let's find out below.
What Can A Custom Range Hood Do For Your Kitchen?
The first question you should be asking yourself before you decide on a range hood is – Do you want a practical kitchen for the sole purpose of cooking or do you want a place where anyone can come hang out and be impressed by the design of the whole kitchen?
If you don't have the time for design thinking or just don't spend enough time at home to care about it, then a regular kitchen hood will work just as fine as a custom one. It will remove all pollutants and bring fresh air into the kitchen the same way, even if it looks a little out of place in the whole room.
However, the modern trend is to design your home in such a way that it stands out from the homes of your neighbors, friends, and family. You'd want your own space to be unique and just your own, which is why we now find homes looking vastly different from how they were back then.
So, if you're one of those people who want to spend more time designing your spaces, then a custom range hood is exactly what you're looking for to liven up the kitchen.
What Are The Advantages Of A Custom Range Hood?
It's not just about style and appeal. Custom range hoods can also help improve kitchen cleanliness and provide some additional lighting. It can also remove any excess heat. Here are more reasons why you ill love it.
You are not limited by any choices
These days, 'custom' means that you can practically do anything you have in mind. Whether it is colors, designs, materials, or sizes, there are typically no limitations to what you can do. Now, you ill need the right contractor to do this as not every service ill be able to do it perfectly, but once you find the best ones, your choices are endless and left to your imagination.
The material you choose can have many advantages
Brass Range hoods come in a variety of materials from copper, tempered glass, aluminum, and stainless steel. If you're shopping for ready-made hoods, you are likely limited to a few options as you have to keep the design and colors in mind as well. But with a custom hood, you can just choose whatever material you want to use as the design and colors can be customized as well.
For example, HAMMERED COPPER is a ood choice as they are durable, eco-friendly, and easy to clean. If these are the qualities, you are looking for from your kitchen hood then you can go with this option or simply choose something else if you desire.
You can make it the "star of the show" with an Amoretti Brass Range Hood
Brass Range hoods are typically quite big and stand out from the rest of the kitchen depending on the square feet. This gives you a chance to model the rest of the kitchen design around the range hood rather than the other way around. Most designer pieces have a standalone element that brings the whole look together. In this case, the range hood would be that focal point, drawing the eyes of anyone who enters the kitchen and being the main talking point.
You may already have a design in mind about how you want your kitchen to look. If you don't, your contractor can help you come up with something that you love and that matches your lifestyle. A custom range hood is a more obvious choice, especially if your focus is on design and style. Create your own unique space inside your home and make your kitchen look like a dream with a brand new custom range hood!
Tags:
Amoretti Brothers
,
artisan
,
best copper cookware
,
brass
,
brass range hood
,
cast bronze
,
chef
,
cooking
,
cooking with copper
,
copper charger
,
copper cookware
,
copper cookware on sale
,
copper cookware safe
,
copper cookware set
,
copper factory
,
copper gifts
,
copper items
,
copper kitchen
,
copper range hood
,
coppersmith
,
craftsmanship
,
custom made
,
decor
,
design
,
ecofriendly
,
foodies
,
friendsgiving
,
gift shopping
,
gifts
,
gourmet
,
gourmet chef
,
hammered copper
,
hand made copper cookware for gourmet chefs
,
interiordesign
,
italian design
,
jewelry
,
kitchen design
,
kitchenware
,
luxury copper cookware
,
metal works
,
mexican cuisine
,
new product
,
online shopping
,
outdoors
,
spanish cuisine
,
sustainable
,
susteinability
,
tin lined
,
traditional hammered
,
unique gifts
,
wellness