An award for the best pizzaiolo in Mexico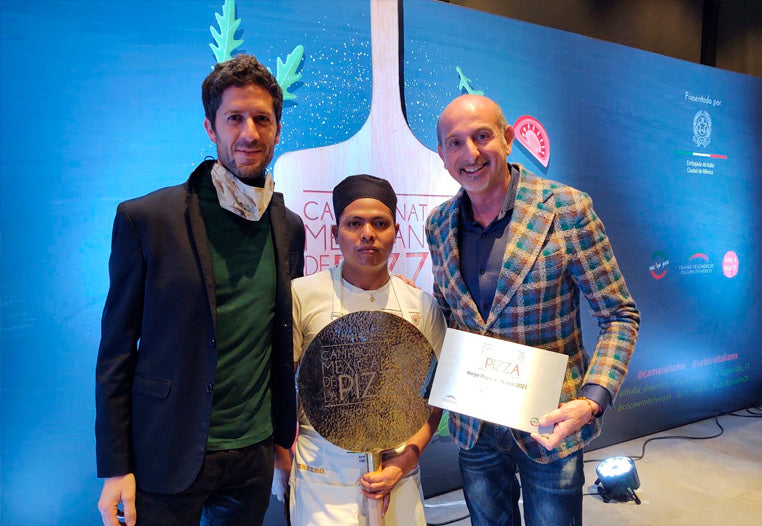 Amoretti Brothers Staff .
Nov 17, 2021
We had the honor of creating the highest award of the 2021 edition of the Mexican Pizza Championship
Since 2015, the Italian Chamber of Commerce in Mexico, in collaboration with the Italian embassy, has organized a contest to find the best pizza maker in Mexico. This edition had a large participation of contenders from all corners of the country.
This contest awards the following categories:
Best Classic Pizza.
Best Creative Pizza.
Best Aesthetic Pizza.
Best Pizza Maker in Mexico
Best Pizza (recognition for the restaurant where the winner of the competition works).
Thus, a delicious event took place in which, the attendees could taste and enjoy different creations and variations of this round and Italian dish that we all love.
This year, it was our task to design and create the prize for the champion. We did it inspired by the shovels that are used in the stone oven, thinking how beautiful one made in gilded brass would look in this context. Of course, the trophy was handcrafted with detailed textures and engraved with the name and the edition of the Championship in our very own workshop. The golden shovel also has the Italian flag near one end, to celebrate the great culinary tradition of this country.
It was a real honor for us to present this trophy and in a way, to collaborate in strengthening this beautiful cultural bond between two wonderful countries. Congratulations to the winners of each category!
If you want to make a truly unique and special gift, contact us here. To discover our finest coppersmith gift collection, click here. The best chefs gifts and copper décor.