This is how we do it: Cleaning copper secrets revealed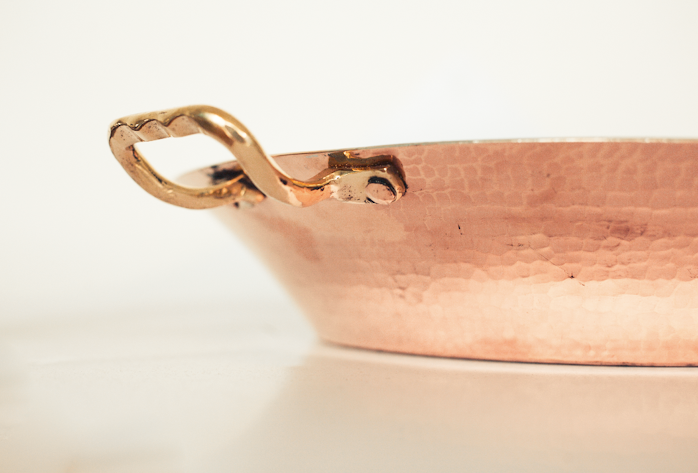 Andrea Amoretti .
Apr 16, 2021
Keep your life lasting products in perfect conditions.
Switching to copper cookware is for most an unknown yet exiting territory to explore. You'll see for yourself, fast enough, how great it is to cook with your new pots and pans,
but, when it comes to cleaning and keeping your products in tip-top conditions, we all often struggle: we don't want to ruin that beautiful shine copper has!
Therefore, we are sharing exactly what we do in our own kitchen. Follow these easy steps and you will see copper maintenance is nothing to be afraid of, and most importantly, that there's no secret. It's just about dedicating a little time to it (we promise it will pay off in the long run).
Before we get into it, we first need to understand that your copper is a live metal and it will change as a natural response to the environment. Your copper items will forever continue to be safe to use even if you see some color changes, spots or marks.
For the outside:
Take a small bowl and make a paste-looking mix with lemon juice and salt. Any kind of lemon and any kind of salt will do. Try and make enough to cover the outside surface of your Amoretti Brothers Copper item.
Start applying only on the outer surface. Make sure to cover all stains, even fire ones. Let the mix do the job for only for a few minutes (long reactions may change de color of your copper). Remember never to let any of this mix go inside your kitchenware, thus it may damage the tin layer.
Rinse with running water and dry with a clean cotton cloth.
Lemon juice and salt is an ecofriendly alternative, and our favorite way to clean a live material such as copper (let's keep it natural!). But also, any commercial copper cleaner will do the trick.
For the inside:
Hand wash like any other pot or pan, clean with soap and warm water. Try to always use the soft side of the sponge. Keep in mind that some spots may appear in your tin layer and its completely natural and safe, it's part of its natural process.
Dry with a cotton cloth.
Never use bleach or any other abrasive substances to clean your copper cookware. Re-tinning with a new fresh layer when your Amoretti Brothers product starts to fade is recommended. Just search for your nearest specialized bodega or ask us for assistance, we'll be happy to help you find an expert near you.  
Just by being careful while cleaning and constant with maintenance, your Copper Cookware Sets will keep shining for many, many years. Remember you can always reach out to us for specific inquires via email at office@amorettibrothers.com