Create an epic table setting for your Christmas eve dinner.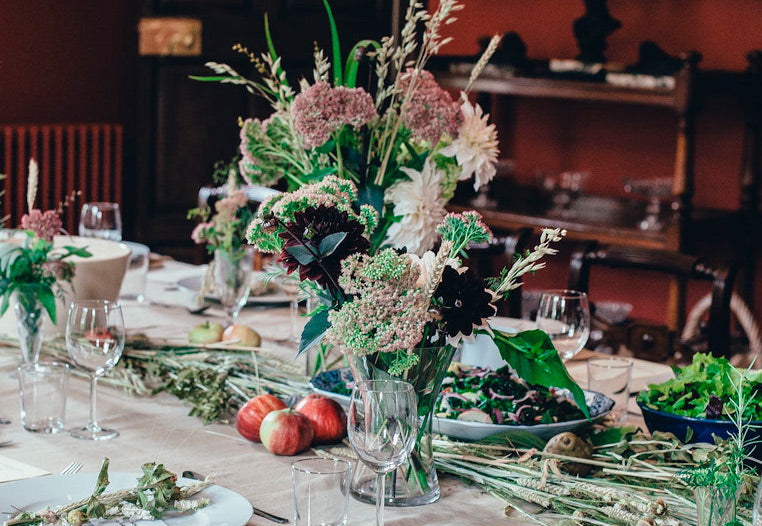 Amoretti Brothers Staff .
Dec 14, 2021
Make a picture-perfect family moment with 5 simple tips. 
You are probably done by now with putting up your tree, Christmas lights, and basically with all of your holiday's decorations. But there's one more to go: your Christmas dinner party. 
Some families prepare a true feast to share during Christmas Eve, others, rather have a delicious breakfast on the 25th, after opening their presents. There are even some people that celebrate by changing into their pajamas, ordering take-out, and watching a movie snuggled up in blankets. Whatever is your tradition, it deserves a beautifully set table. It's an action of love that intends to mark a special occasion by changing your daily routine. Here are some tips to do so: 
Have fun with it! 
Holidays are supposed to be about having a great time. So keep in mind that the whole idea of celebrating is to relax and enjoy every part of the process.
Have a theme
Like any other decoration task, planning ahead will do wonders for the final outcome. Having a color palette or picking out a certain theme will make everything easier. 
Involve the family
Here's a fun idea: Decorate and personalize each other's place settings. You can start with a copper charger and then invite everyone to decorate with the place owner's favorite things.
Create a breathtaking centerpiece 
It is a well-known fact that a centerpiece is essential for a celebration table setting. You may repurpose some of your Amoretti Brother's gift collection items to do so: a roasting pan with some candles and pine branches, a mixing bowl with Christmas baubles, a water pitcher with freshly cut flowers 
Keep it green
We wouldn't be ourselves if we passed on an opportunity to remind everyone to try and live a greener life, would we? Make good choices. Pick zero-waste, compostable, reusable, or recyclable items for your table-setting décor. 
Now that everything is set, please share with us a picture of your table using #AmorettiBrothers on social media!