How can I elevate my kitchen with a bespoke metal range hood, kitchen cabinets, and a copper sink?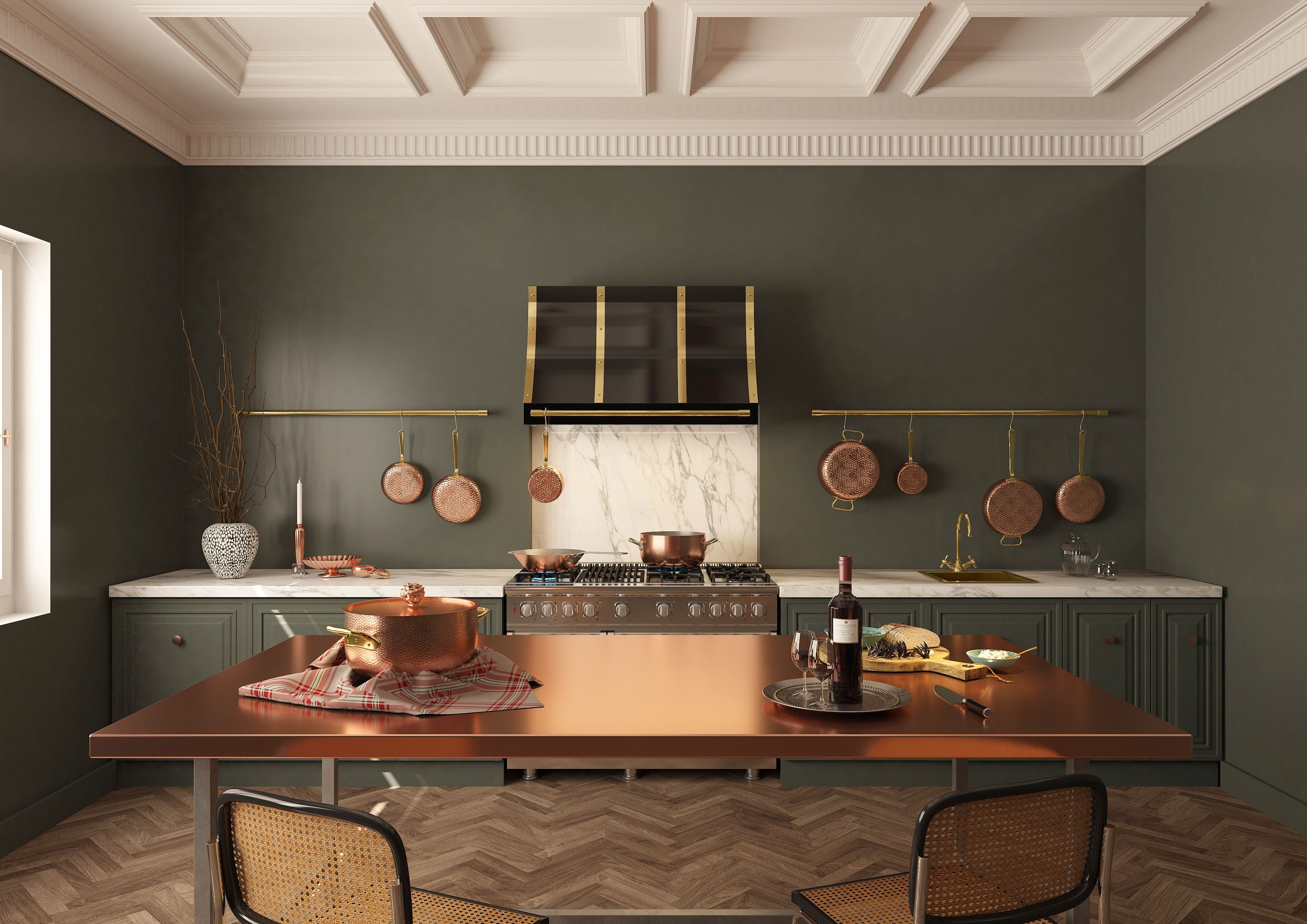 Andrea Amoretti .
Jun 29, 2023
Looking to transform your kitchen into a luxurious and stylish space? Consider incorporating bespoke metal range hoods, custom kitchen cabinets, and stunning copper sinks from Amoretti Brothers. With their wide range of contemporary kitchen islands, elegant white cabinets, and high-end appliances, you can create your dream kitchen with modern luxury design. These custom elements, including cabinet range hoods and farmhouse sinks, will elevate your kitchen to new heights, combining functionality with exquisite craftsmanship. Discover the perfect balance of clean lines, ample counter space, and natural light for an elegant and sophisticated kitchen remodel. Trust the expertise of Amoretti Brothers, renowned kitchen designers, to bring your vision to life and achieve a high-end kitchen design that exceeds your expectations. With their attention to detail and commitment to delivering excellence, your dream kitchen is just a step away
In this article, we will explore how these custom-made elements can transform your kitchen into a culinary sanctuary that reflects your unique taste and enhances your cooking experience.

1. The Focal Point: Bespoke Metal Range Hood:
A bespoke metal range hood instantly becomes the focal point of any kitchen. Crafted with precision and attention to detail, it adds a touch of elegance and sophistication. Custom range hoods can be tailored to your kitchen's layout, ensuring optimal ventilation and a seamless integration with your design aesthetic. The use of premium metals such as copper or stainless steel enhances the overall ambiance, creating a statement piece that sets your kitchen apart.


2. Custom Kitchen Cabinets: Functionality and Style:
Custom kitchen cabinets offer the perfect combination of functionality and style. Tailored to your specific needs and preferences, they optimize storage space, enhance workflow, and complement the overall design of your kitchen. With meticulous craftsmanship and attention to detail, these cabinets become an integral part of your kitchen's aesthetics, providing both practicality and visual appeal.


3. The Beauty of Copper: A Stunning Sink:
Integrating a copper sink into your kitchen design adds a touch of warmth, character, and timeless beauty. Copper sinks are renowned for their durability and natural antimicrobial properties, making them a practical choice for any culinary enthusiast. The unique patina that develops over time adds charm and elegance to your kitchen. From farmhouse-style apron sinks to sleek undermount designs, a bespoke copper sink becomes a centerpiece that enhances both form and function.


4. Unleashing Your Personal Style:
The beauty of bespoke metal range hoods, kitchen cabinets, and a copper sink lies in the ability to personalize and express your style. Whether you prefer a rustic farmhouse vibe, a sleek contemporary look, or a blend of traditional and modern elements, these custom features allow you to infuse your personality into every detail of your kitchen. The result is a space that truly reflects your taste and becomes an extension of your culinary creativity.

Conclusion:
Elevating your kitchen goes beyond functionality; it's about creating a space that inspires and delights. By incorporating bespoke metal range hoods, custom kitchen cabinets, and a stunning copper sink, you can transform your kitchen into a sanctuary that exudes luxury and style. From the eye-catching centerpiece of a metal range hood to the practicality and beauty of custom cabinets and a copper sink, each element adds its own unique charm. Discover the possibilities and let your kitchen reflect your style and passion for exceptional design. Invest in bespoke metal features and a copper sink, and elevate your kitchen into a culinary haven that inspires greatness.