How to Cook with Copper Pots and then...Clean it!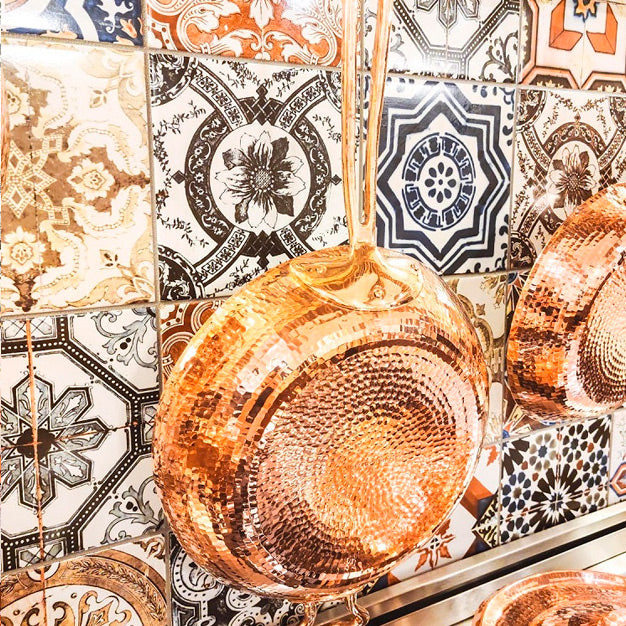 Andrea Amoretti .
Sep 19, 2019
Professionals love copper cooking pots and pans because of their quick reaction time. Copper cooks faster and better because of its uniform conductivity, as it surrounds your food with uniform heat. It has about ten times the heat conductivity of stainless and glass, and twice that of aluminum, so only requires low to moderate heat to obtain the best results.
If you are new to copper, try using Med-Hi heat as a maximum for a few cooking sessions. Copper heats up very quickly. Using a Med-Hi heat will help you learn the idiosyncrasies of your new cookware without worry.

Copper develops a beautiful patina that many pros and home cooks prefer. However you can easily remove it with salt and lemon, and then wash with fresh water. A shining copper pot can make your kitchen really precious.

The inside tin lining is not reactive to acidic foods, it is not allergenic, does not rust, and can be easily refurbished, and at a very reasonable cost, compared with other metals. Being a soft metal, keep it in good condition by always having liquid in the pot before putting it on the heat, do not pre-heat the pan and use non-scarring utensils such as wooden, silicone or nylon. It may darken with use, however it does not affect its performance nor react with other foods subsequently cooked in the pot, and it can be cleaned.

With minimal care in its use and cleaning, it will become a heirloom to be treasured and used by subsequent generations.
COPPER CLEANING + CARE
All Amoretti Brothers copper cookware are made with 100% recycled copper and then tinned on the cooking surface.
Handles are made in cast bronze.
CLEANING
It is true, copper will naturally darken without regular polishing, but with little care you can restore the shining of your pans in minutes.

For the exterior there are two main alternatives:
1) Use copper polish like Brasso to keep copper from tarnishing and free from white spots.
2) As a natural alternative, you can use a combination of lemon juice and salt and then wash it with fresh water. It will be spectacular again!

For the interior, hand washing is recommended. Hand wash with hot, soapy water and avoid using abrasive materials to clean, and in particular do not use bleach.
Additional tips to protect the tin lining
Never heat empty tin-lined copper cookware or allow it to boil to a dry point, or add salt to your pan if the water is not completely boiled.
Every few years of usage the cooking surface can become thinner and should be re-tinned.

COPPER COOKWARE ON THE STOVE: WHICH ONE?
All copper cookware can be used on gas, electric, halogen stove tops, and in the oven. Copper cookware do not work on induction
Please contact us if you would like more information office@amorettibrothers.com