The secret behind paella is a life lesson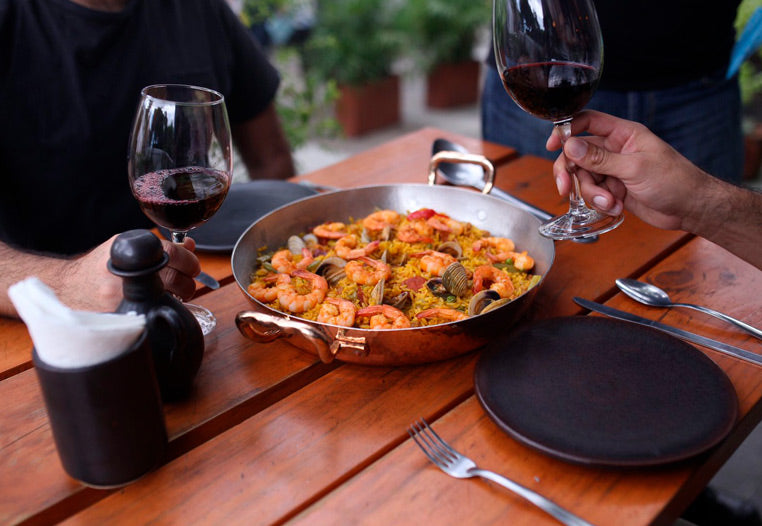 Amoretti Brothers Staff .
Jul 09, 2021
We managed to get a chef's best advice to his delicious Spanish paella.      
Ismael Ituarte is a young restaurateur based in Guadalajara, Mexico, and as many other chef's out there, he started his career in the kitchen while being a little child, just as his father and grandfather did in their time.
We visited Ismael's place, called La Ronda, located in a vibrant part of the city, surrounded by other restaurants, cafés and gallerias and asked him a few questions about paella cooking and his experience using the brand-new copper paella pans by Amoretti Brothers.
Of course, we didn't get the full recipe for the Ituarte's famous paella, but, to our surprise, we got so much more.
"Anyone can see paella is prepared by a bunch of ingredients: sea food, all sorts of charcuterie, vegetables, saffron and some other basic spices, but not many notices what's behind. It's about spending time, and investing attention to it. It's about adaptability, too, you can switch and trade amounts and ingredients to your taste and possibilities, always respecting a few rules to honor tradition".
In a few words, much like life, paella is about adapting and figuring out your very own path with advice of your elders. Ismael made a version of his father's recipe, and he changed his mother's to his taste. The Ituarte's once in Spain moved to Mexico and learned to better use what was close to them but never forgot their roots.
"When it comes to using Amoretti Brothers' copper kitchenware instead of our usual steel paella pans, it was a great switch for us. Rice cooks beautifully and evenly, and I didn't get to time it, but I'm sure it was done a bit sooner. Also, the paellera it's just so beautiful, we got it right out of the stove and place it on the table to serve".
Remember, paella is worth a shot cooking and not as intimidating as it seems once you make peace with the idea that it's completely ok to make a few mistakes while you figure out your very own path. Once you master your formula, paella is a fun dish to cook outdoors and a great alternative to your yard and terrace events. Oh, and speaking of tradition, always pair with a bottle of your favorite red!