September is all about Mexican cuisine!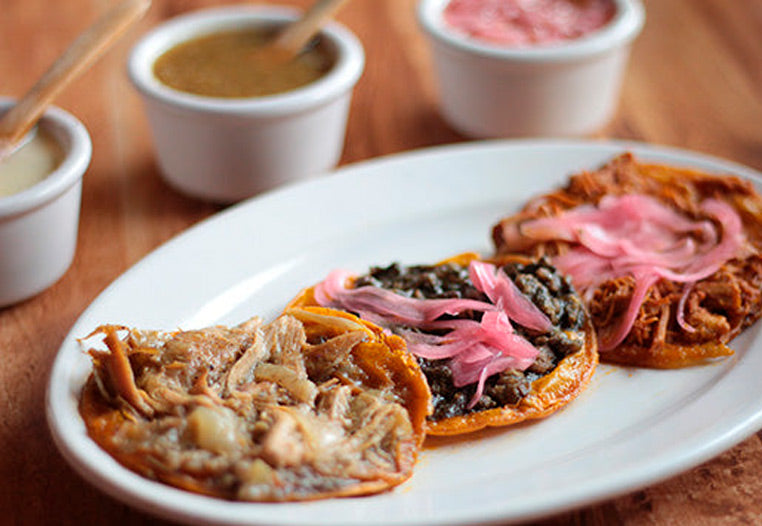 Amoretti Brothers Staff .
Sep 13, 2021
Get your copper kitchenware out for this surprisingly easy to cook recipe
Mid-September national celebrations in Mexico are something else. Since the first days of this month, as heat has come down a little, the streets commence to be filled with colorful motifs and people seem just a lot happier. And this happiness, we are very certain, has a lot to do with families cooking their favorite Mexican dishes.
And that's because, we came to find, preparing and sharing a scrumptious meal such as tamales, mole poblano or pozole is the best way to truly celebrating Mexico's tradition and culture.
Without further ado, we are sharing a modern way to cook cochinita pibil (traditional recipe has to be cooked underground), an authentic Yucatan's peninsula delicacy and the original "soul food", as ancient Mesoamerican cultures used to prepared it to honor their ancestors and called it "Hanal Pixan", which literally means "food for the souls".
Ingredients:
1/2 kg of pork loin
4 guajillo peppers.
3 garlic cloves.
1 spoon of commercial achiote sauce.
1/4 cup of sour orange juice.
1 pinch of cumin.
Habanero sauce.
1 purple onion, thin sliced.
3 spoons of green lemon juice.
Salt to taste.
Instructions:
Roast the peppers on a frying pan, soak them in 1 cup of hot water to soften them, and remove the seeds.
Blend them together with the garlic, achiote, orange juice, and cumin to obtain a homogeneous mixture.
Place the pork loin in a bowl and pour the blended mixture. Let it marinate overnight in the fridge.
In a different dish, combine the red onion with the lemon juice and a splash of salt and let it marinate for at least 3 hours.
In a copper pot or sauté pan, place the pork with 1 liter of water and cook for 2 hours or up until it is soft. Remove from the stove and wait for the meat to cool down to shred it.
Serve in a platter and use chopped onion to garnish. Habanero sauce may be added during cooking or placed at the table for individual use.
Here's our pro hint: A copper daubière, o cocotte, or Dutch oven will do wonders for this dish in particular, as it will resemble more the traditional sealed procedure. Amoretti Brothers copper lids seal perfectly, keeping the moisture better for much tender and tasty meat. Make sure to add a bit less water and resist the temptation to open your pot and check, so heat doesn't dissipate. It will take a couple of hours to be done, but it's worth the wait!
Are you ready to cook Mexican with your copper kitchenware? Tell us how it goes on any of our social media platforms!