Is it time to redo your kitchen? Here are some of the hottest trends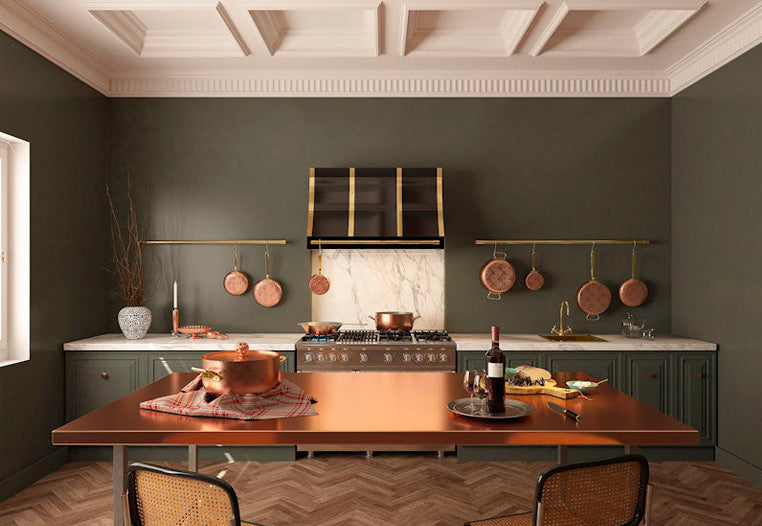 Amoretti Brothers Staff .
May 21, 2021
Including copper items in your brand-new kitchen will keep your space timeless, sophisticated and beautiful.      
The first half of 2021 has gone quickly, and maybe it's time to grab now that list of to-do house projects from the bottom drawer. That is, if you want to get it done before another year passes by. According to realhomes.com (RH) this year is an exciting year for kitchen renovations, as there are some of the cutest trends out there to elevate the heart of every home, regardless it's design style.
Countryliving.com (CL) also has some suggestions to make for this year's best kitchen design ideas. Both articles have many ideas to pick from in recently posted articles and they both agree that open shelving seems to be the all-time favorite. Non the less, we selected a few favorites of our own: What do they all have in common? You guessed it; they all suggest copper!
Dark kitchens: "if you really want to create that cocooning feel, match the walls to the cabinets and add in accents of copper too". (RH)
Copper accents: "If there's one person who knows her way around a kitchen, it's Martha Stewart. Her cooking area features copper pots and pans with an impressive collection of matching servingware". (CL)
Heavy up the metal: "The open shelving trend isn't going anywhere, and in a kitchen void of upper cabinetry, the hood is inevitably the centerpiece. Dress it accordingly! Copper sheeting, with coordinating straps and rivets, adds age-old warmth". (CL)
Copper cookware: "get yourself a kitchen rail, and hang your collection of copper pots to create a gorgeous feature". (RH)
Please, do yourselves a favor and both websites for further inspiration. All the pictures are just breathtaking there are tons of great ideas to put into work in your kitchen renovation! Also, take notice of all the copper accents in them: hoods, lamps, stools, door handles, and kitchenware and, once you are inspired, come back amorettibrothers.com and start making your dream kitchen come true.
Real Home's Kitchen design trends 2021 – 15 looks to bring your kitchen up to date: https://www.realhomes.com/design/kitchen-design-trends-2021
Country Living's 39 Kitchen Trends for 2021 That We Predict Will Be Everywhere
https://www.countryliving.com/home-design/decorating-ideas/g3988/kitchen-trends/