The Amoretti Brothers Custom Range Hoods & Decorative Metal Hoods: Copper, Brass, & Steel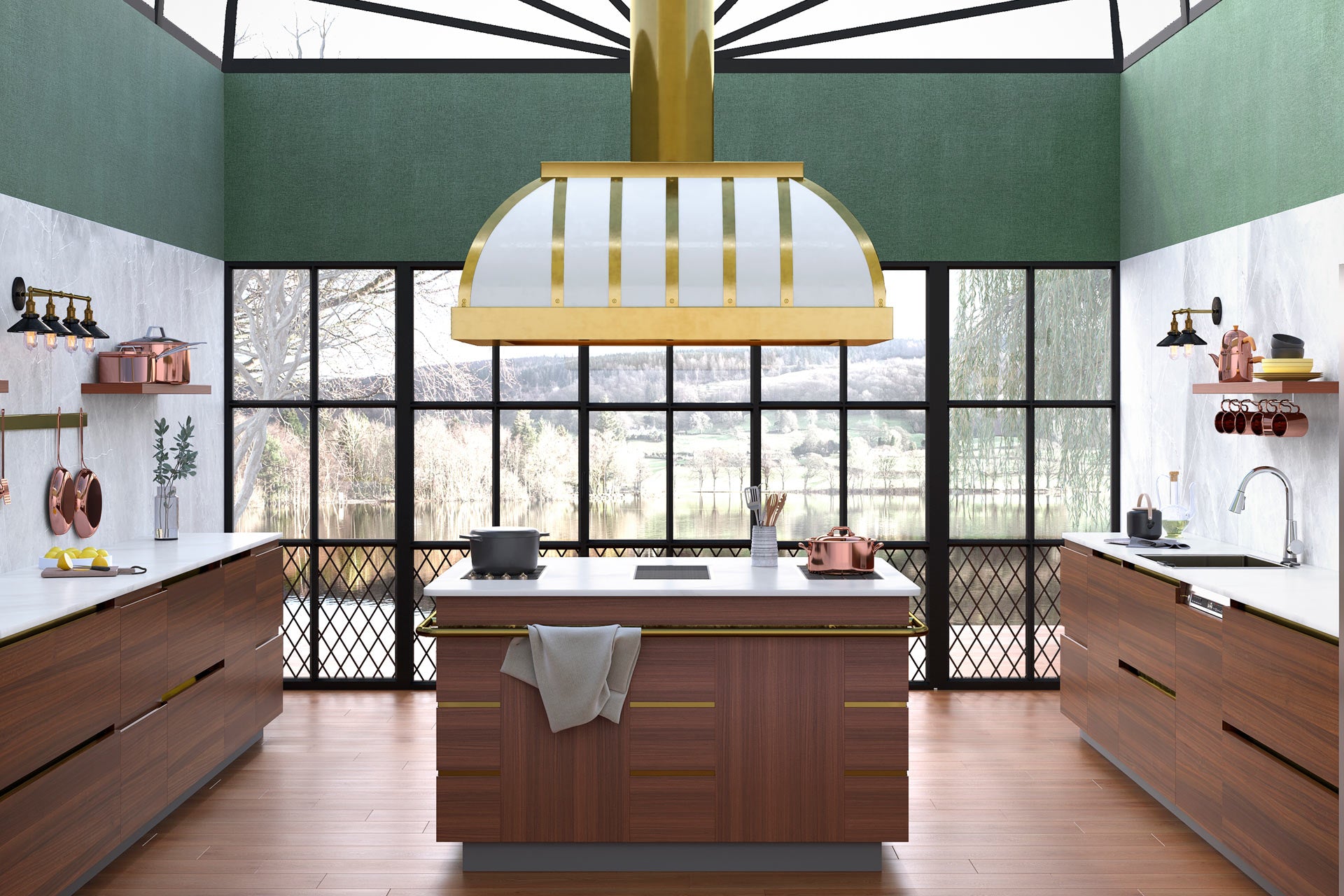 Amoretti Brothers Staff .
May 28, 2022
Amoretti  Brothers have been perfecting and specializing in the creation of true handcrafted custom-designed range hoods for luxury kitchens since 2018 
Amoretti  Brothers and copperkitchenstore.com provide beautifully designed, custom range hoods for kitchens with Italian Design and created with Mexican handcrafted for all over the world. Our custom hoods come in an array of colors and metal types. Handcrafted customized to your desires and specifications.
We have range hoods, at: 
Copper range hoods
Brass range hoods
Stainless steel range hoods
Blackened steel range hoods.
Enamel range Hood
Enamel metal range hood
TMB gold range hood
Supported by a long journey creating pieces of brass and copper, we have perfected ourselves in the elaboration of pieces for the kitchen of high value, totally handmade and with ancestral techniques that are a mixture between the essence of the brand, techniques of the 17th century in Europe and a long tradition of indigenous hands from southern Mexico.
Our decorative and Luxury copper range hoods or Brass Range Hoods are often the kitchen's focal point and truly become eye-catching artwork making the most amazing kitchens complete. 
All of our artistic crafts range hoods are made to order on at Internet and we make contact with you and take the necessary actions to complete the order in detail. 
At Amoretti Brothers, we are emotionally attached to every custom bespoke range hood we build. 
Every hi-quality bespoke range Hood is made by hand and goes through multiple quality control checks before it is finally shipped to our clients. Our copper, brass, and steel hoods are shipped anywhere in the world and we are proud to be internationally recognized. 
Perfecting our craft since 2006, every hood is carefully made-to-order, one-at-a-time to our client's detailed specifications.
Our tailored kitchen covers and range hoods have been acquired for different projects of very demanding tastes, which have inspired our designers and craftsmen to achievements deeply studied and developed in detail, very specific needs that seek to embellish every inch of the space these would occupy, applying the vast experience acquired in the creation of handcrafted utensils of kitchen and projecting in the last 3 years, our new line of artistic custom range hoods.  
Custom Kitchen Range Hoods – Any Design, Any Metal, Any Size, Any Finish! 
Custom Copper Range Hoods, Custom Brass, Stainless Steel, or Decorative Gold Color Range Hoods, minimalistic White Range Hoods. 
The kitchen is the heart of the home where friends and family prepare meals, relax and spend time together. Shouldn't it be decorated to fit your style and be just as beautiful as the rest of your living area?
For years, Amoretti Brothers have been a leading industry manufacturer of high-quality bespoke Range Hoods. 
The Amoretti Brothers' true handcrafted custom range hoods include a Professional- grade ventilation system for removing unwanted cooking smoke and vapors quickly and quietly. We have designs that integrate state-of-the-art absorption technology. Amoretti range hoods become the "Focal Point" of the kitchen and are considered a "Work of Art" and often referred to as "Jewelry in the Kitchen". In 2018, Amoretti It begins with the obtaining of recycled material and we begin to manufacture products with a greater artisanal value and environmental impact, as well as the integration of a mostly qualified workforce, in this way we begin the journey to the development of very high-end products.
Custom Made Range Hoods are available in more than 25 product designs in a variety of shapes and sizes. Custom-designed copper range hoods, custom-designed brass range hoods, commercial kitchen hoods, and custom-designed stainless steel range hoods are popular choices as well as powder-coated decorator colors. 
Decorative bands, rivets, buttons, and pot rails are options that dress up the range hood. 
Amoretti Brothers also offer cabinet inserts for wood hoods for kitchen ventilation and specially designed ventilation of cutting-edge technology units that fit inside an existing custom-made wood cabinet. Cabinet inserts contain fans, as well as speed controls and lights. We can also create and manufacture a custom range hood designed just for you! 
Each Amoretti range hood is made one at a time, with superior craftsmanship to the highest quality standards. At RangeCraft, we specialize in individual orders, either standard designs or creating custom-made range hoods to your design ideas. RangeCraft range hoods are Made in America by trained artisans in our factory here in New Jersey. They are manufactured with powerful quiet fans, halogen lights, and exquisite finishing detail.
Tags:
Amoretti Brothers
,
artisan
,
best copper cookware
,
brass
,
brass range hood
,
cast bronze
,
chef
,
cooking
,
cooking with copper
,
copper brass steel
,
copper charger
,
copper cookware
,
copper cookware on sale
,
copper cookware safe
,
copper cookware set
,
copper factory
,
copper gifts
,
copper items
,
copper kitchen
,
copper range hood
,
coppersmith
,
craftsmanship
,
custom made
,
custom-range-hoods
,
decor
,
decorative-metal-hoods
,
design
,
ecofriendly
,
foodies
,
gift shopping
,
gifts
,
gourmet
,
gourmet chef
,
hammered copper
,
hand made copper cookware for gourmet chefs
,
interiordesign
,
italian design
,
jewelry
,
kitchen design
,
kitchenware
,
luxury copper cookware
,
metal works
,
new product
,
online shopping
,
outdoors
,
range hood
,
spanish cuisine
,
sustainable
,
susteinability
,
traditional hammered
,
unique gifts
,
wellness